New Garage Doors
Do you require a new garage door? Rely only on the expert garage door service provider — Pro Master Garage Door Service. We know that installing a garage door is usually a big decision. As such, we provide FREE advice in terms of materials, brands, styles, colors and other technical specifications in order for you to determine the most appropriate garage door to install. We will also help you ensure that your new garage door will add to the value and curb appeal of your home.
Just contact us at 855-931-1331.
Garage Door Installation
Purchasing and installing or replacing your garage door is a big decision. This is because it is usually a considerable investment, will affect the overall aesthetics or look and feel of your home as well as ensure your safety and security.
To help you make an informed decision, contact Pro Master Garage Door Service at 855-931-1331. We will guide you every step of the way.
Pro Master Garage Door Service will give you the most comprehensive listing of materials and choices for your garage door investment. We will give you different choices in terms of: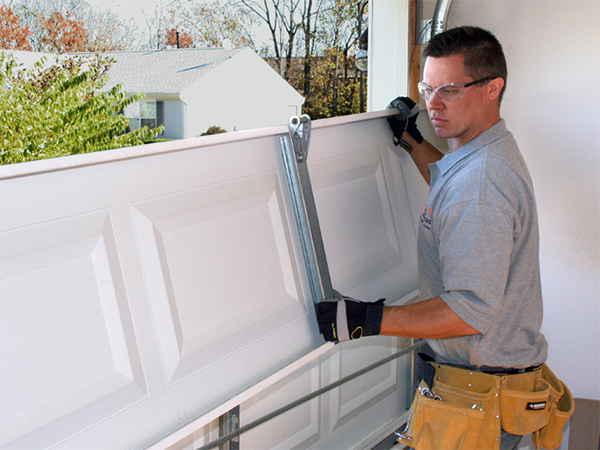 Materials — You can select from different options such as wood, steel or aluminum. We will also advise you on the different considerations such as cost, noise factor, insulating properties of the materials, including its maintenance.
Aesthetics — You can choose from our wide array of designs, styles and colors.
Accessories — You can opt to have window inserts or glass panels, you can have ceiling or wall mounted openers et. al.
Safety and Security Measures — You can select keyless entry, use rolling codes or even tap your smartphone to serve as a security control.
Energy efficiency — You can choose from different materials with different R-values depending on your insulation needs.
At the end of the day however, your decision on your garage door should be based on your needs, practicality, lifestyle and most importantly, budget. In all of these things, Pro Master Garage Door Service will be your companion. We will provide you with recommendations on what will suit your needs and budget.
Garage Door Brands
Pro Master Garage Door Service carries different brands and makes of garage doors. We are confident that whatever brand or type of garage door you are interested in, we can supply it. Furthermore, we are experienced in installing any type of garage door; including maintaining, replacing or repairing any of its components.
Among the brands that we have in our inventory are:
CLOPAY® — This is a United States brand of residential garage doors, the only one backed by the Good Housekeeping Seal which is the most recognized consumer product insignia in the country. The Seal is an endorsement of the quality and durability of the Clopay® brand. Each of their various types of garage doors have patented Safe-T-Brackets, as well as sturdy tracks, rollers and hinges. Their garage doors are made to last a lifetime with their strong hardware and durable springs.
AMARR® — In the business since 1951, qhat differentiates Amarr® from all other garage door manufacturers is their dedication and commitment to safety. Practically all Amarr® steel doors are designed with the Amarr® SafeGuard safety system that enhances overall safety for the homeowner. This means that all of their products virtually guarantee the reduced risk of serious hand and finger injuries.
WAYNE DALTON — A garage door manufacturer for over 60 years, Wayne Dalton is committed to bringing great impact and value to your home through the installation of stylish, good quality and high performance garage door. Some of their collections have insulated garage door options, and choices in terms of color, window and decorative hardware.
C.H.I. — C.H.I. offers beautiful choices among their collection of residential garage doors known for exceptional quality, craftsmanship and value. They provide an array of choices in terms of styles, materials, insulation types, colors and even according to your budget.
RAYNOR — Raynor has been in the business of manufacturing high quality garage doors and openers since 1944. They pioneered the development of steel garage doors for residential use. Their collection of residential doors are made of superior quality, unlimited versatility and is a product of their commitment to innovation.
SEARS — Among the different garage door manufacturers, Sears offers the strongest warranties on each door and even lifetime warranties on the door sections of their steel carriage house and three-layer traditional steel doors. Sears always aim for 100% customer satisfaction on all their garage doors.
MARTIN — Martin is known for beautifully crafted garage doors in premium quality, performance and value.
ANKMAR — Ankmar has been in the business of crafting durable and quality garage doors since 1956. They have a variety of garage door offerings that can be customized according to your needs and requirements.
Garage Door Materials
Whatever material you want for your garage door — wood, steel, aluminum, copper, vinyl etc. — trust that we have it for you. What's more, our team of technicians are fully trained and experienced in installing whatever type of garage door you prefer.
Our arsenal of garage doors come in the following materials:
Wood — A wood garage door is usually considered to be the best because its beauty can dramatically improve the aesthetic appeal of your home leading to increased property value. Plus, the graining, knots and shading of wood garage doors usually differ from one to the next making each wooden door truly unique. What's more, the beauty of wood is long-lasting and with proper maintenance, it can even look better as it gets old.
Steel — A steel garage door is low-maintenance yet high-performing and long-lasting. It is also legendary in durability and quality.
Aluminum — Aluminum garage doors are now very popular among homeowners. This is because they share very similar qualities with steel doors and are quite affordable. A big plus is its resistance to oxidation.
Fiberglass — A fibreglass garage door is strong yet lightweight. Its primary appeal is its wood-like appearance and low-cost. Note that the fiberglass can be treated to have grains that look like wood.
Vinyl — Installing a vinyl garage door is advisable for homeowners living in coastal areas or those who generally have humid or wet climate. This is because vinyl is resistant to sea or salt spray and humidity. A major selling point of a vinyl garage door is the fact that it can mimic the look of wood without its associated maintenance costs and requirements.
Glass —The use of glass for garage doors is becoming a trend nowadays because of the value it adds to the look of your home. A glass garage door is a thing of beauty. It can look dramatic, and will add a chic or modern look to your home. At the same time, it is easy to clean, does not corrode or rust and easy to maintain with a glass cleaner or soap.
Garage Door Styles
The garage doors that we at Pro Master Garage Door Service carry come in three main styles"
Carriage House — The carriage house garage door design is very traditional. Its name refers to the original out-buildings of large manors of old where carriages where stored or kept. Through the years, the carriages were replaced by cars but the carriage house term itself is still being used to refer to the classic garage door designs. Originally, carriage house garage doors only used wood for its material. However, now different types of materials — steel, aluminum, vinyl, fibreglass etc. can be configured to take on the carriage house design.
Contemporary — Contemporary garage doors usually make use of glass for clean lines, sleek and modern look. Pro Master Garage Door Service carries stunning contemporary glass door designs, that may be tinted or panelled, in order to showcase the beauty of your home. The sleek lines and modern appeal of glass and the way that the sunlight hits it will indeed provide a very contemporary feel. Oftentimes, to achieve that exciting look, we use glass with steel, faux wood, handcrafted wood, aluminum or vinyl. Note also that all of our contemporary designs are coupled with innovative features and the latest technological to enhance its durability, performance, protection from the elements, wind etc.
Traditional-raised — The traditional-raised panel garage door design is quite popular among homeowners because of its timeless and classic look, sturdy characteristic and reliability. It usually comes in steel but at present, this particular design is also available in different materials such as wood, fiberglass or composite materials. It can also be combined with glass or other materials for a more dramatic look.
Garage Door Colors
Pro Master Garage Door Service has a collection of garage doors in different colors. Do you want to express subtlety, elegance or boldness? Do it with our differently-colored garage doors:
Blue — The biggest come on of having a blue garage door is that it can be very soothing, refreshing and calming. At the end of the day, it would be nice for a tired homeowner to come home to a relaxing blue garage door. There can be many shades of blue that can be used for a garage door — you can have a deep blue door, a stormy hue, turquoise, aqua, marine blue, midnight blue — the choices are endless.
Black — This is a popular choice for garage doors because it is very elegant and timeless. Depending on how your garage door is used or positioned in the overall architectural scheme, a black door can add flair and drama. What's more, it can hide dirt and imperfections.
White — White is a good choice for a garage door because contrary to what others may say, it is never boring. A white garage door can change its look depending on where the light hits it.
Red — If you want to make a bold and daring statement, the best way to do that is to color your garage door red. Red, being the most intense color, raises the energy level. It denotes warmth and creates a strong impression. If you want people to immediately take notice of your home, having a bright or vibrant red garage door will do that for you.
Yellow — The yellow color is very uplifting and cheery. When used for a garage door, it can provide a bold statement for your home as well as serve as a point of discussion. Depending on how it complements the curb appeal of your home, it can actually increase its market value.
Purple — Pro Master Garage Door Service can show you our collection of purple doors — from the darkest hues to the lightest tones, all guaranteed to bring out the beauty of your home and kickstart a conversation.
Custom Garage Doors
Do you want a specially customized garage door just for you? We can help you out. Pro Master Garage Door Service offers customized garage doors that harmonize with and reflect the character and personality of your home. We will work closely with you to develop a design that will have an impact and will enhance the natural beauty of your home.
We determine the appropriate size, height and width, shape, kind of wood, surface treatment, windows, glass, finish, paint or stain, decorative hardware and all the other things that need to be considered. Then we provide you with our proposal. Whatever type of home you have — traditional, colonial, Victorian, Mediterranean, modern, contemporary, ranch, Spanish colonial or a pristine craftsman bungalow — we will make sure that your garage door will only serve to enhance its beauty while ensuring function and security.
Call Pro Master Garage Door Service now at 855-931-1331 for your customized garage door.